SPECIALTY TOOLS
You will find tools in our small Warehouse store that will straighten deck boards, demolish decks, properly tension cable rail cable and cut cable as well. We have Freud saw blades that will cut through practically anything, Freud router bits that can turn a sheet of plywood into a piece of custom furniture, and laser levels that will ensure your home is plumb and square. Our selection of Festool products is impressive, as is the knowledge of our very own certified Festool specialist.
Camo
CAMO®
The CAMO® Edge Deck Fastening System works on any treated lumber, hardwood, cedar, composite, or PVC deck board. CAMO® deck screws and a CAMO® Marksman tool combine to deliver a fastener-free deck surface at a price that makes getting the job easy and installing the deck even easier. The system includes CAMO® Edge Fasteners, CAMO® Marksman and Marksman Pro tools and CAMO® Driver Bits.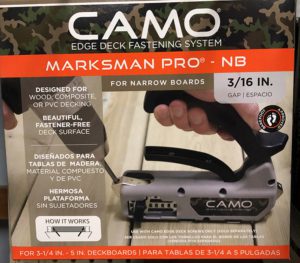 feeney
Feeney Cable Rail
Cable Tension Gauge
Cable Tensioning Tool

DECK DEMON
The Ultimate Tool for Deck Demolition! Contractors and homeowners alike love the Deck Demon because it blasts through the demolition phase of the project and gets them to what really matters… construction. The Deck Demon removes decking on a 12′ by 12′ deck in less than 25 minutes. It allows you to work from a standing position to wreck the deck, not your back!
Deck Wrecker Tool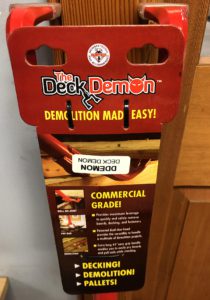 EDGE fast
EDGEfast locks two edges of PVC and most square-edge wood decking with just one placement over the joist. EDGEfast makes a positive connection of decking to joist without any lateral movement. The patent-pending EDGEfast pneumatic tool has interchangeable decking gaps and guides – 0", 1/8″, 3/16″ and 1/4″, or a custom gap of your choice. Install decking five times faster than conventional methods.
Festool
Power tools by Festool allow the professional contractor to work faster, easier, smarter and healthier. German engineered to outperform the quality and functional standards of any competitor, Festool accessories are designed to function in integrated systems.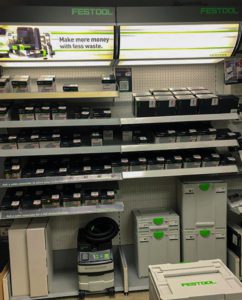 freud
Freud Blades & Bits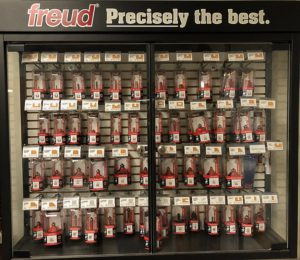 Whether you are a fine woodworker or a high-production cabinet shop, one thing is for certain… you depend on the best, most precise cutting tools that deliver a superior, quality finish with long cutting life. Each Freud product is carefully crafted using the best materials, industry-leading innovative designs and the most sophisticated manufacturing process.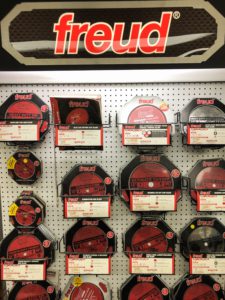 Hardwood Wrench
The ultimate tool for straightening the most difficult tropical deck boards. Allows for hands-free, one-man operation. So strong it can bend multiple boards simultaneously!

Miscellaneous
Pneuhook
Fits 1/4″ I/M Type Fittings
Fits 1/4″ T Type Fittings
Fits 3/8″ P or T Type Fittings

Tie Downs
SBC Shake & Shingle Installation Tool
The SBC Shake and Shingle Tool eliminates the need to nail a ledger board and snap lines. Will improve accuracy and installation time of sidewall wood shingles.
STABILA
STABILA tools are precision made to the highest standards. In addition to traditional, bubble-type spirit levels in a variety of sizes, STABILA also makes hi-tech tools such as laser levels and electronic levels.
R-Beam 48″ – 25100 Torpedo w/Magnets – Set
33′ Tape Measure
Type LD220 Laser Distance Measuring Tool
Type 196/96M/196E Level End Caps (2)
R-Beam Endcaps (2)
Pocket Level Pro w/Holder
Type LAX300 Pro Liner Cross Line Laser Level
24″ Type 196-2 Tech/Electronic
48″ Type 196-2 Tech/Electronic
10″ Torpedo w/Magnets
24″ Type 196
36″ Type 196
Jamber 72″ & 32″ Set Type 196
48″ & 16″ Set Type 196
24″ R-Beam
48″ R-Beam
78″ R-Beam
Speedeck Tool

Speedeck is a groundbreaking, deck spacing tool that allows up to five boards to be installed at once, all with perfect 3/16″ gaps. Speedeck models are available for 3-1/2″, 5-3/16″ and 5-1/2″ deck boards while using nails, screws and hidden fastening systems to secure the boards.
3-1/2″ Tool
5-3/16″ Tool
5-1/2″ Tool
WINBAG®
With a powerful, 300 pounds of lifting pressure, the WINBAG® is great for leveling windows, installing cabinets, positioning heavy doors and so much more.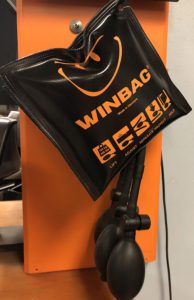 Edge Eyewear
Work safe, play safe with Edge Eyewear. Protecting you with high standards and featuring an adjustable, black nylon cord.
Call Selectwood for questions, quantity discounts and product pricing.
LOCATION
Eldredge-Selectwood
275 Constitution Avenue
Portsmouth, NH 03801
Call: 800.922.5655
Local Phone: 603.436.9663
Fax: 603.436.1331
Store Hours:
Mon. – Fri.: 7:30 am – 5:00 pm
Saturday: 8:00 am – 1:00 pm