Introducing "Harbor Light"
an Eldredge / Selectwood Exclusive
MOULDINGS
Selectwood offers exceptional primed poplar profiles for interior applications and cost- effective clear, kiln dried finger-jointed pine mouldings. The superior finish found on our ready-to-install mouldings makes it an easy choice for contractors and homeowners alike.
We also have in stock a good selection of popular profiles in PVC. Other composite and fiber cement options are available to order through our Inside Sales department.
If we don't have the profile your need, please ask us about our CUSTOM MOULDINGS, made right here in the Selectwood Woodshop.  Call – 800-922-5655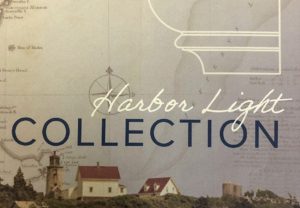 The Harbor Light Collection is made exclusively for Eldredge / Selectwood, this collection of superior Sher-Wood primed poplar moulding includes twelve distinctive profiles that may be assembled together to create as many as 40 impressive build-ups. A few of these stunning profiles are shown below.
Please all our Sales staff for pricing, availability, and more information.
CAPE ELIZABETH CROWN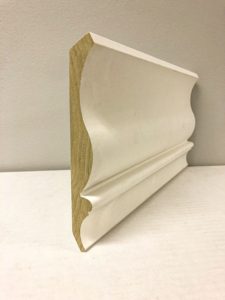 EXECUTIVE CASING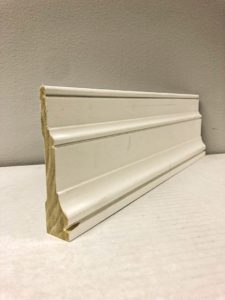 BULL FINSH CASING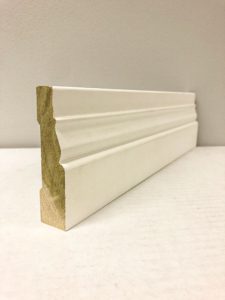 LIBBY ISLAND PANEL MOULD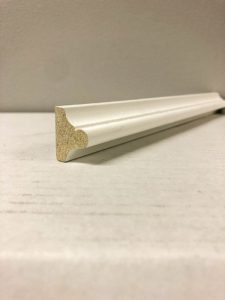 KITTERY POINT BACKBAND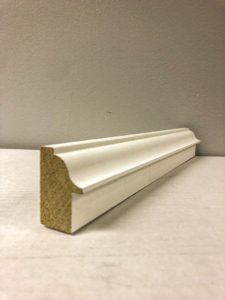 Selectwood Poplar Mouldings
Made out of the highest-grade poplar, our unique, solid mouldings will add beauty to any room. We can accommodate custom profiles and radius work. Most profiles are primed.
1-3/16″x1-7/16″ Newbury Back Band Primed
13/16″x1-5/16″ Rowley Back Band
1-1/8″x1-11/16″ Hamilton Back Band Primed
1-1/8″x1-37/64″ Manchester Back Band
5-1/2″x3/4″ Newmarket Base
5-1/2″x3/4″ York Base
7-1/4″x3/4″ Hampton Base
6″x11/16″ Georgetown Base
1-3/8″x3/4″ Newmarket Base Cap
1-3/8″x3/4″ Hampton Base Cap
3/4″x5/8″ York Base Cap
11/16″x1/8″ Exeter Base Cap
1-7/16″x3/4″ Newburyport Base
1-5/8″x11/16″ Ipswich Base
2-1/4″x3/4″ Newmarket Apron
3-5/8″x3/4″ Exeter Crown
4-5/8″x13/16″ Exeter Crown
4″x3/4″ York Crown
11/16″ x 2-1/4 "York Crown/Cove
5-1/8″x3/4″ Marble Head Crown
3-5/8″x11/16″ Salem Crown
4-5/8″x11/16″ Salem Crown
6-1/8″x1-1/16″ York Crown
2-3/4″x1-3/8" Essex Crown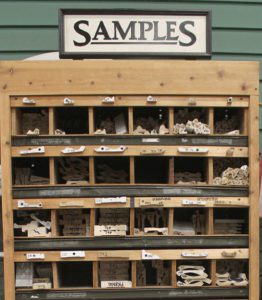 3-1/4″x1-1/4″ Hampton Chair Rail
1-5/32″ x 1-5/8″ Nantucket Chair Rail
2-1/2″x5/8″ Merrimac Chair Rail
3-1/2″x7/8″ York Casing
5-1/2″x7/8″ York Casing
3-1/2″x7/8″ Newmarket Casing
3-1/2″x1″ Windsor Casing
3-1/2″x1-1/16″ Hampton Casing
4-1/4″x1-3/16″ Concord Casing
2-1/2″x3/4″ York Casing
4-1/2/"x3/4″ York Casing
3-1/2″x3/4″ Gloucester Casing
4-1/2″x3/4″ Gloucester Casing
2″x3/4″ Bullnose
2″x1″ Bullnose
2-1/2″x1/2″ Bullnose
5-1/2″x3/4″ Bullnose
5-1/2″x1″ Bullnose
3/4″ Quarter Round
3/4″x3/4″ Scotia
3-1/16″x3/8″ Cottage Wainscoting
Made of high-grade PVC, Azek mouldings are designed to last a lifetime and are paintable, nor hey will not deteriorate in hostile exterior applications, like New England winters.
We stock many of the sizes and profiles you'll use the most
Back bands, base caps, bed, base & door casing, brick, crown.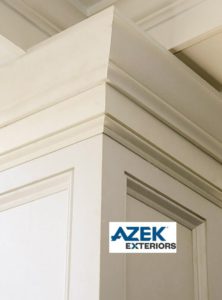 Selectwood Custom Mouldings
The Woodshop at Eldredge / Selectwood in Portsmouth, NH is a frequent stop for  builders and homeowners alike who are searching for a particular profile that isn't likely to be found "in stock" at any lumberyard. We welcome your inquiry and whenever possible, a drawing or sample piece of the profile will make estimating and reproducing the profile a less time consuming process. We have a great selection of wood at our disposal but we will quote pricing in most any wood you may require.
P5 Solid Primed Radiata Pine is the choice for exterior pine moulding. Click here to view available profiles.
Economical Primed Finger-Jointed Pine Moulding
We stock some popular profiles  IN 16′ LENGTHS:
SPEEDBASE  (WMSBASEFJP)     9/16″ X 5 1/4″
CROWN  (8009FJP)                       9/16″ X 3 5/8″
TRADITIONAL CROWN  (8013FJP)     9/16″ X  4 5/8″
COLONIAL CASING   (8710FJP)          11/16″ X 2 5/8″
STAFFORD CASING  (WMSTAFFFJP)      3/4″ X 3 1/2″
WINDSOR CASING  (B200FJP)    3/4″ X 3 1/2″
Click here to add your own text
Call Selectwood for information on all or stock mouldings and custom milling pricing.