ARCHITECTURAL HARDWARE
Selectwood is your local source for high-quality, high-performance architectural hardware. Our portfolio of distinguished designers and manufacturers represents our commitment to providing you with the finest hardware for your home — sleek, modern designs in stainless steel or captivating sculpture-like castings in brass or bronze – choose the perfect hardware to make a statement at your front door!
Ashley Norton
With a keen eye on detail and a deep passion for customer service, Ashley Norton brings to you their wide selection of Solid Bronze Hardware. With Ashley Norton, the possibilities are limited only by your imagination.

Baldwin
Preeminent manufacturer of solid brass hardware and accessories. Baldwin hardware is engineered to today's highest standards of quality, durability and security.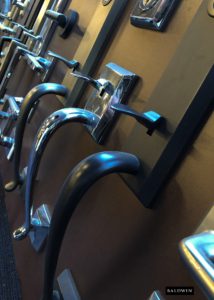 Emtek
Affordable designer hardware, available in an array of designs and finishes. Emtek offers enough options that can be used as elements of design in almost any project.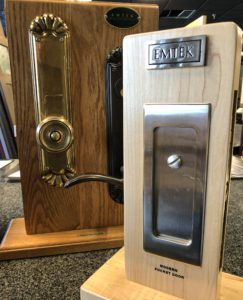 Hager Hinge
Hager offers a large array of high-quality hinges designed for superior performance, with a broad selection of styles, sizes and finishes.

Rocky Mountain
One of the original, custom-cast, all-bronze architectural hardware manufacturers, their line continues to be a specialty at Selectwood. Rocky Mountain focuses on exceptional quality.
Schlage
One of the world's largest manufacturers of door knobs, locks and levers. Different lock series are available, from light duty residential to heavy duty commercial, plus original designs.

Von Morris
Extraordinary, beautifully crafted, architectural hardware manufactured to strict, environmentally sound practices.

Deltana
Deltana offers a huge selection of hinges, bolts and stops, including kitchen and bath hardware. Deltana offers many products and finishes to meet almost any architectural hardware requirement.
Call Selectwood for questions, quantity discounts and product pricing.
LOCATION
Eldredge-Selectwood
275 Constitution Avenue
Portsmouth, NH 03801
Call: 800.922.5655
Local Phone: 603.436.9663
Fax: 603.436.1331
Store Hours:
Mon. – Fri.: 7:30 am – 5:00 pm
Saturday: 8:00 am – 1:00 pm