PAINTS & COATINGS
The Paint Department in our warehouse store currently features select products commonly used with our specialty and premium lumbers. Some of these products are similar to the coatings found on our prefinished mahogany decking.
Messmer's
We carry only the best oils for your new hardwood deck and wood deck furniture.
Natural UV Plus for hardwood decks – 1 gal.
UV Plus Red Mahogany – 1 gal.
Natural UV Plus Finish – 1 qt.
Cedar UV Plus Finish – 1 gal.
Redwood UV Plus Finish – 1 gal.
Clear Weathering UV Plus Finish – 1 gal.
Cape Cod Gray UV Plus Finish – 1 gal.
Wood Cleaner Part A
Wood Brightener Part B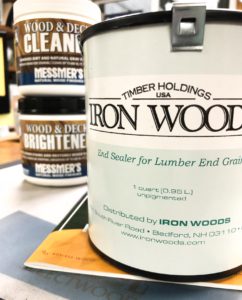 Iron Woods End Grain Sealer
Call Selectwood for questions, quantity discounts and product pricing.
LOCATION
Eldredge-Selectwood
275 Constitution Avenue
Portsmouth, NH 03801
Call: 800.922.5655
Local Phone: 603.436.9663
Fax: 603.436.1331
Store Hours:
Mon. – Fri.: 7:30 am – 5:00 pm
Saturday: 8:00 am – 1:00 pm