SHAKES & SHINGLES
There are precious few specialty lumber yards in New England that stock the variety of wood shakes and shingles we do in our Portsmouth, New Hampshire warehouse. Our selection of Western Red Cedar and Eastern White Cedar shingles are available in the finest grades. Most of our western cedar shingles carry the "Certi-Label" from the Cedar Shake and Shingle Bureau, ensuring your product is the right product for the job. Our Eastern White Cedar shingles come from the finest mills in Maine and Canada, Maibecand SBC.
Please Call for Availability & How to Place a Special Order.
800-922-5655
EASTERN WHITE CEDAR SHINGLES
Eastern White Cedar Shingles are produced in Northern Maine and Eastern Canada. They have gained popularity with the advent of kiln drying, re-squaring and rebutting and pre-finishing.
MAIBEC PRE-STAINED SHINGLES – ALL KD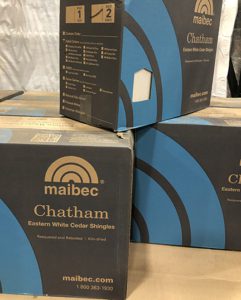 Available as Extra & Clear 1 or 2 Coat 16″ WC Shingle in a 25sf boxes (5" exposure) and are in stock or available to order in 18 distinctive semi-transparent & solid colors.
green
GREEN SHINGLES
Clear Green 16″ R&R
Extra Green 16″ R&R
strip
MAIBEC STRIP SHINGLES
16″ Strip 1-Coat R&R KD
16″ Strip 2-Coat R&R KD
16″ Strip Natural R&R KD
NATURAL KD SHINGLES
Clear Natural 16″ R&R KD
Extra Natural 16″ R&R KD
SBC SHINGLES
SBC Clear Eco-Bleach 1-Coat 16″ WC Shingle
SBC Extra Eco-Bleach 1-Coat 16″ WC Shingle
SBC Extra Sandstone 2-Coat 16″ WC Shingle
SBC Extra White Cedar R&R Green Shingle
SBC Clear Natural "KD" WC Shingle
SPICE SEMI-TRANSPARENT
Clear 2-Coat 16″ R&R KD
Nutmeg Brown,  Cinnamon
SOLID STAIN SHINGLES
Available in the following colors with fast turnaround time.
AYC SHAKES AND SHINGLES
Alaskan Yellow Cedar has gained popularity with discerning builders due to it's unique properties and durability. Yellow Cedar will weather to a lighter more silvery gray than Western Red Cedar. It possesses a distinctive yellow color combined with t unique aroma.
18″ Perfection Shingles
18″ Tapersawn Shakes
18″R&R's
Western Red
WRC SHAKES AND SHINGLES
Western Red Cedar Shingles and Shakes are unsurpassed for their natural beauty and durability combined with high insulation value which helps reduce energy costs. Shingles and shakes are available in a multitude of shapes, sizes, styles and surface treatments to fit a vast array of project requirements.
boxed
BOXED R&RS
R&Rs are kiln dried shingles which are trimmed with parallel edges with the butts sawn at right angles. R&Rs are dimensionally stable. Typically they are packaged in boxes rather than bundles. They are the preferred shingles for indoor applications and are typically used on exterior walls and not on roofs.
shakes
SHAKES
Hand split Shakes are thicker than shingles and more rustic in appearance. Shakes are split on the exposed face rather than sawn on both sides yielding a natural grain, textured look. Generally hand split shakes are used on roofs creating a distinctive bold appearance. Most sizes and grades are available fire or pressure treated.
18″ #1 Med.
18″ #1 Heavies
18″ #1 Barn  Shake
24″ #1 Med.
24″ #1 Med. CCA
24″ #1 Med. Class C
24″ #1 Heavies
24″ #1 Heavies CCA
24″ #1 Heavy  Class C
24″ #1 Barn Shakes
SHINGLES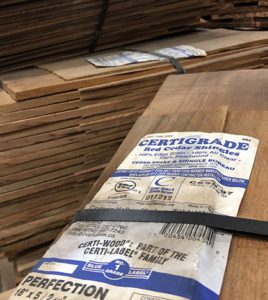 18″ #1 Perfections
18″ #1 Perfections CCA, PT
18″ #1 Perfections Class C F/T
18″ #2 Perfections
24″ #1 Royals
24″ #2 Royals
24″ #3 Royals
taper
TAPERSAWN
5/8″x18″ Premium
5/8″x18″ Premium CCA
3/4″x18″ Premium
7/8 "x18″ Premium
5/8″x24″ Premium
5/8″x18″ #1 Fire Treated C
5/8″x18″ #1 CCA
5/8″x24" #1 CCA
Call Selectwood for questions, quantity discounts and product pricing.
LOCATION
Eldredge-Selectwood
275 Constitution Avenue
Portsmouth, NH 03801
Call: 800.922.5655
Local Phone: 603.436.9663
Fax: 603.436.1331
Store Hours:
Mon. – Fri.: 7:30 am – 5:00 pm
Saturday: 8:00 am – 1:00 pm