Michael Graff – Architect & Builder
We're proud to have such loyal professionals as Michael Graf in our ranks of builders who have been coming through our doors for the past several decades. One of Michael's projects is shown below. Eldredge/Selectwood Account Representative Bert Raymond faciliated the Marvin windows and sliders and much of the specialty lumber found throughout the house.
When long-time residents of the Seacoast were looking to build a new home for their family, they envisioned a house that would blend the look of a traditional New England-style with highly energy-efficient materials and systems.
Read the Full Article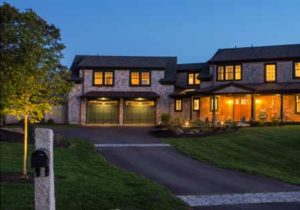 A NET ZERO HOME WITH A TRADITIONAL NEW ENGLAND LOOK
The family turned to Portsmouth-based, Eco Sound Builders and architect Anne Whitney to achieve their goal.
Since 2007, Eco Sound Builders has worked with clients to build high-performance, custom homes and to remodel historic homes – all with a focus on sustainability. Owners Ethan Korpi and Pete Robie approach each project as a true collaboration involving not only the owner, architect and builder, but also a key team of local subcontractors and suppliers. Korpi stresses the importance of this collaborative approach when building a high-performance home. "Early on the construction team is established and every member is just as important as the other. Starting with our client to Anne and all our subcontractors, everyone brings something to the table that makes each project unique."
Eco Sound adheres to a high-performance building philosophy, "build it tight, ventilate right." For this project, a traditional shingle-style home was designed with a super-insulated, air-tight building envelope. The mechanical ventilation systems and highly-efficient heating and cooling systems are all electric and are powered by roof-mounted PV solar panels – enabling the home to achieve an annual Net Zero energy status.
As they have for many projects, Eco Sound Builders worked with Tom McElreavy at Selectwood to source exterior and interior building products, prioritizing product longevity, durability and low maintenance. Materials for this custom home included Red Cedar natural siding and unfinished naval decking, both of which require minimal maintenance. Eco Sound frequently uses Marvin windows because of their high quality and durability. They selected the Marvin Ultimate Series windows with historic trim for this home. Other materials supplied by Selectwood included Upstate Doors, Poplar and Eprime Interior Trim, custom milled moldings, TruStyle Doors and Emtek Hardware. Korpi says, "working with Tom has allowed us to try new materials because we can trust that they have been vetted by Selectwood to perform to our high standards."
Eco Sound endeavors to 'keep it local' as much as possible: In addition to sourcing materials from Selectwood, Eco Sound partners with many local artisans including custom cabinet maker Fred Wildnauer. For this project, the homeowners wanted an inviting, open concept kitchen and Wildnauer provided the perfect custom option to meet their needs. "This all ties back to how building a custom home for a client needs to be a very collaborative process in order for it to be a success," says Robie. "We can build the tightest, most energy efficient house, but if it doesn't look and feel inviting to the homeowners inside and out, we haven't done our job. It's a team effort to reach the finish line." The clients for this project provided the highest praise: after moving into their new home they declared, "we don't ever want to leave!"
Sounds like an oxymoron, doesn't it? Several years ago it might have been, but that was before Mighty Roots was formed.
Read the Full Article
A HIGH-PERFORMANCE HOME DISGUISED AS A CLASSIC COLONIAL
The owners of an in-town Portsmouth home wanted a new house that would fit with the older look and feel of their neighborhood, BUT… they wanted the structure to perform at the highest levels of energy efficiency. They asked Mighty Roots to take to that challenge.
Located in Greenland, NH, Mighty Roots is a residential design/build company with its own custom wood shop. Mighty Roots started just over 10 years ago. At that time, a lot of "McMansions" were being built using the minimum amount of insulation, huge inefficient HVAC systems and lots of space that served little-to-no purpose. It was apparent to the company's founders, Jeff Stacy and Chris Redman, that these houses were going to be completely undesirable in the coming decades, so they hatched a plan to build smart, quality, eco-friendly homes. The idea was to utilize cutting-edge building technology to create super-insulated homes that combined large, open floor plans with smaller, ultra-efficient HVAC systems.
This 2,640 square foot, colonial-look home – the owners' primary residence – is one of the latest projects to benefit from the Mighty Roots philosophy. All new construction, it's an Energy-Star home that is rated at an astounding 3 on the HERS® (Home Energy Rating System) index of 0 to 150, with zero being best. In other words, it's ultra-super-efficient. Solar panels on the back roof make it an almost a net-zero energy home!
Mighty Roots also keeps the environment in the forefront of their thinking when they're back in their own wood shop. All of the wood they use is formaldehyde-free and 100% FSC (Forest Stewardship Council) certified. On top of that, they use soy-based glues during assembly, and their spray booth uses only the most advanced paints and finishes, keeping air quality high and environmental impact low. All of the cabinetry for this home was crafted in their Greenland shop. This includes the full custom kitchen, the built-ins in the mudroom, the library shelving/cabinets and a fireplace surround in the family room. In fact, one of the things Jeff and Chris are most proud of on this project is the fact that it was a comprehensive Mighty Roots home, from the design, to the construction, to the cabinetry.
Selectwood was involved with the project almost from the start. Jeff and Chris asked Selectwood's Tom McElreavy to consult on the selection and specification of the entire Marvin window order, as well as on the exterior finish materials, which included Boral siding, Azek trim boards and Ipe decking. Tom was also able to provide them with all the Poplar moldings. "It's always great working with Jeff, Chris and the crew at Mighty Roots," says Tom. "They make you feel as if you're part of the team."
On the Mighty Roots web site, it says their goal "is to build happy homes, happy communities and happy lives"… Looks like they nailed it.
Photos by Greg West Photography
Q: What do you get when you combine a beautiful setting and a highly talented design/build company?
Read the Full Article
"Modern" Weds "Farmhouse" In Casual Yet Elegant Ceremony
If you were to drive by this home in Rye Beach, NH, with its beautiful, marsh-view setting and classic New England lines, you might think, "Wow, somebody did a really nice update on that old farmhouse!" In fact, from the ground-up this is a brand new home by Southwick Construction, a well-known and highly respected design/build firm in North Hampton, NH.
Sited within walking distance of the beach and the golf course, the home is currently used by the owners as a weekend/vacation retreat, with an eye toward making it a primary residence sometime in the next few years.
When the owners first contacted Richard and Terry Southwick, they weren't sure what style home they wanted to build. Their current primary residence is a traditional New England home, which they like, but they also wanted some modern amenities and touches of luxury. That's when Richard suggested they build a "modern farmhouse."
Modern farmhouse style combines the sleek, clean lines of contemporary design with cozy farmhouse aesthetics to create a fresh take on country living. Known for its warmth and simplicity, the style is characterized by the use of natural textures and materials such as wood and stone.
"In my opinion," says Richard, "modern farmhouse is one of the best design trends to come along in a while. It's perfect for this upscale corner of New England, and a refreshing change from the shingled gambrel look that for years has been so popular on the Seacoast."
His goal with this design, he says, was to create a custom, casual, comfortable family home with modern conveniences built in. One of the first things you notice about this home is the intriguing exterior surface, which was achieved by using wide vertical and horizontal Boral siding instead of traditional clapboards. Another eye-catching feature is a series of wall dormers give the front and rear elevations added visual appeal while echoing farmhouses of yesteryear.
Selectwood's point-man on this project was Tom McElreavy. Tom says that, in addition to the aforementioned Boral siding, the Southwicks specified a lot of products from Selectwood. including Marvin windows and exterior doors, Tru Stile interior doors, Rocky Mountain Hardware and Azek trim and decking. They also specified a Sundance Spa from Selectwood's sister company, Great Bay Spa & Sauna.
Terry Southwick, who specified many of the interior features, including the wide-oak plank flooring, says that natural wood accents are a must-have for any modern farmhouse home. "One of the most notable interior features of this home." says Terry, "is a 60"-long, linear gas fireplace with a marble surround, framed by wire-brushed oak, 'barnboard' paneling. It's just stunning."
According to the Southwicks, the most satisfying aspect of this project was designing the home from scratch. "We gathered inspiration from the classic, New England farmhouses in the area," says Richard, "then incorporated modern design features."
The result is a large, new, beautiful home that feels as if it has always been there.
Photos – Brian Walters Photography
Construction – Chinburg Properties, CJ Architects
Fall/Winter 2017 – Enhancing an Up-and-coming Neighborhood
Portsmouth, New Hampshire, is a city that is rich in both history and contemporary cultural life, making it a very popular place to live. One of the city's coolest, developing neighborhoods is the Northern Tier. And one of the coolest developments in that neighborhood is 233 Vaughn Street, a commercial & residential, mixed-use collaboration between Chinburg Properties and CJ Architects.
We asked Jenn Goodson at Chinburg Properties to describe some of the details of this 4-story stunner.
Read the Full Article
The entrance to 233 Vaughan is through a signature atrium at the corner of Vaughan and Green Streets. It features a 14-foot radius tower with a glass curtain wall and high ceilings. Environmentally friendly, geothermal heating and cooling is used to bring energy-efficient comfort to the entire building.
The project also features an Energy Recovery Ventilation (ERV) system designed to exhaust the stale air inside and replace it with fresh air from outside. And the building's LEED-like core and shell are designed and constructed to meet the high performance standards. Other construction details include:
a fully reinforced, poured-in-place concrete foundation.
a structural steel frame with metal deck and concrete floors.
exterior walls consisting of water-struck brick, locally quarried granite, maintenance-free composite panels, aluminum panels and custom fiberglass formed trim.
The living units on the residential floors feature generous allowances for premium flooring selections, custom tiled showers/tub surrounds, premium plumbing and lighting fixtures and customized closets, as well as luxury kitchen and bath packages that include design services, granite and quartz countertops, and professional grade appliances. Completing these high-end living spaces are a gas fireplace, private balcony (most residences) and custom-designed built-ins courtesy of master-craftsman Fred Loucks and his team at Salmon Falls Woodworks.
Topping off 233 Vaughan is a private, rooftop terrace with community pool and luxury entertainment area with grills and firepits. Rooftop plantings and other media reduce the overall energy load of the building, keeping temperatures comfortable and energy costs down. In fact, the roof assembly will support 8″ of plant media as well as 24″ deep planters at strategic locations that are capable of growing small trees and shrubs.
Surrounding the pool are hundreds of square feet of beautiful, mahogany decking, provided by Selectwood. "We've always found the Selectwood team to be top notch," says Goodson. "They're knowledgeable, helpful and professional. That's the kind of company you want on your team."
When asked to describe the most satisfying aspect of this project, Goodson doesn't hesitate: "Collaborating with CJ Architects and the design teams to lift this beautiful, uniquely shaped and highly detailed building off the computer screen and bring it to real life," said Goodson. She adds, "As with any construction project of this size, at times the challenges seemed endless, but the final result is amazing!"
We couldn't agree more.
Photography – Greg West
Construction – Jim Savage
Spring/Summer 2017 – Dave & Harold Tackle Their Own Home Improvement Projects
This section of our Builder's Guide usually showcases large, architect- designed homes, yet a significant portion of the materials that leaves our warehouse ends up going to smaller, "home improvement" projects. So in this issue we're highlighting projects recently completed on the homes of two Selectwood employees, Dave Hill and Harold Dyer.
Read the Full Article
A New Front Deck Becomes A Neighborhood Gathering Spot
Dave and Cheryl Hill live in an incredibly friendly neighborhood in Sanford, ME. "People are always walking by," says Dave. "And if you're out in front of the house, folks will invariably stop and chat – sometimes for quite a while." And that suits Dave and Cheryl just fine.
So when Cheryl wanted to add a deck where she and Dave could enjoy more time in the sun, she thought they should embrace that friendliness and build the deck out front. "I don't know what I want it to look like," said Cheryl, "but I'll know it when I see it." So Dave spent some time in front of the house using stakes, string and buckets to define the deck's size, shape, height, how the front steps might integrate, etc. Cheryl interjected that she'd love to have benches and planters to enhance the curb appeal, so those were incorporated into the plans.
Once Cheryl had her deck fully envisioned, she waited for Dave (whom she fondly refers to as "The Procrastinator") to begin construction. After a few months, she realized the project would likely not be completed before winter, so they agreed to hire builder Jim Savage. Jim took Cheryl's vision and brought it to life using Simpson joist hangers, Azek decking, Cortex hidden fastener system, Azek trim and DuraShell lattice for the skirt. Once Jim completed the deck, The Procrastinator took over and built some beautiful Azek benches and Azek planters. He then ordered a couple of custom-colored Seaside Casual Adirondack Dining Chairs from our sister company, Great Bay Spa & Sauna.
How's the new front deck working out? Well, over a sunny weekend this past spring, Dave spent so much time chatting with neighbors who were "just passing by," he got sunburned on one side of his face. And Cheryl couldn't be happier. (Not about the sunburn – about the deck!) Actually, Dave's pretty happy about it, too… only now he keeps some sunscreen next to his chair.
A Facelift Gives The Dyer Home A Fresh, Updated Look
The windows in Harold and Valerie Dyer's home in Somersworth, NH, had last been replaced in 1972. So the Dyers ordered beautiful new Marvin windows to replace the vintage vinyls, and hired builder Jim Savage to install them. (Savage again… are you seeing a pattern here?)
Harold offered to help Jim by doing most of the deconstruction himself. As he was pulling back the siding next to the windows, Harold thought maybe they should replace the old siding as well. So he and Valerie ordered pre-colored American Original Cape Cod siding. It looks like cedar shakes but is made from polypropylene, which lasts longer and shrinks/expands less than vinyl. They also ordered pre-primed Boral TruExterior Trim, which they had painted a dark green for contrast.
As he was removing the rest of the siding, Harold remembered that he had never been happy with the ventilation in the roof, so he decided to expand his demolition to include the old gutters, soffits and fascia. And now with the whole house stripped, it just made sense to wrap it in Blueskin VP100 before putting anything back on. So they did.
As Jim Savage was finishing up with the windows and siding, it became apparent to the Dyers that some of the old doors on the house just weren't up to snuff, so they replaced a glass slider with a new Marvin slider, a wooden door to the garage with a color-matched ThermaTru door, and the old bulkhead with a Bilco steel door. They also replaced the garage doors for good measure.
"The outside is now done," says Harold. "Course, we haven't started doing the interior trim yet. Maybe I'll save that for another article." (Wow… who knew procrastination was contagious? 😉
After spending the first summer season in their New Castle, NH, vacation home, the owners decided to move in year-round. Enter D.D. Cook Builders…
A couple of years ago, the Eldreds purchased a house in New Castle, NH, overlooking the Piscataqua River and the causeway to Portsmouth. The original idea was to use it as a summer getaway. Yet after spending just one summer season, they loved the location so much they decided to turn the property into their primary residence. They wanted a traditional style home that fit into the historic fabric of New Castle, but they also wanted it to be sizable enough that they could entertain and host family and friends without feeling crowded.
Read the Full Article
It was a tall order, given the restrictions of the lot size and waterfront building regulations, but as the results show, D.D. Cook Builders, Inc. was up to the task. They have been building custom homes throughout the Seacoast area for more than 33 years. While they build primarily new, single-family homes, they are also adept and highly experienced at renovating and remodeling both residential and light commercial properties. We had a chance to sit down with Don Cook, founder and President of D.D. Cook Builders, Inc., and Tom McElreavy, the salesman who oversaw this project for Selectwood, and ask them about the Eldred's stunning waterfront home.
Tell us who was involved in making this project such a success?
Don: First of all, the Eldreds themselves. It was their vision that was the impetus for the project. They also wanted to be directly involved throughout the process, including being able to specify the materials and finishes in this custom home. We worked closely with them to make that happen. The project architect was Chris Russ of Jan Gleysteen Architects in Wellesley, MA. Jay Crosby was the project manager for D.D. Cook Builders. And, of course, our go-to guy at Selectwood was Tom.
What kind of challenges did this project present and how were you able to overcome them?
Don: The main challenge was fitting a 5900 square foot home on a rather restrictive lot. We knew this was going to be a major hurdle, so early on we started working with the owners, architects and civil engineers to coordinate the planning, permitting and design of the home. Besides the normal building permits needed, this home also needed approvals of the New Castle Conservation Commission, the New Castle Historic District Commission and the New Hampshire Dept. of Environmental Services wetlands permit… plus a shoreland permit. We relied on Ambit Engineering, Inc. of Portsmouth, NH, for all site planning, state approvals and permitting.
What are some of the features that make this project so special?
Don: While it's essentially a traditional gambrel style home, a tremendous amount of detail was incorporated into the design, including a Western Red Cedar roof and White Cedar wall shingles.
Tom: We were able to find special, fire-rated roof shingles that balanced the demands of building codes with the aesthetic benefits of a wood-shingled roof. Some of the shingles were steamed to allow them to be bedded perfectly against the roof flares. And the Maibec White Cedar wall shingles were pre-finished in Seacoast Gray for instant good looks and longer life. Both the exterior trim and the Slate Gray decking are AZEK.
Don: There's also alot of beautiful stonework outside, including on the foundation, chimney, back patio and outside BBQ area. Inside there's a full gym with a sauna and its own bathroom. And there are custom, built-in cabinets in almost every room, as well as a high degree of custom wood moldings throughout the home.
Tom: In addition to supplying some of our stock moldings to this project, [Selectwood's] Tom Roberts was able to produce some custom moldings in our woodshop, providing some of the finer details in the home.
What was the most satisfying aspect of this project?
Don: I believe it was the freedom to specify certain materials, to make suggestions as to the finishes and construction details that should be used and to have them accepted. I think our 33 years of experience allowed the homeowners and architect to trust our input, and that, in turn, allowed us to create a lasting, personal connection with this project.
Construction – Gregory La Verdera, Architect. C.F. Witham
&

Son, Builder.

Spring/Summer 2016 – First Plat House in Maine
When Ann Kendall decided to downsize from her home in York, she made a decision to build what she called her "forever house." She wanted a design that would take full advantage of a bucolic view, be energy-efficient and low maintenance. Enter the Plat House.
Read the Full Article
What is a Plat House, you ask? According to the web site of the architect, Gregory La Vardera, it's called the Plat House because it is surrounded on three sides by deck space, and most of the interior space is open to the view, as if the entire house were one big deck. The design is based on a guesthouse Greg worked on in 1995. Complete drawings were never done for that structure; it was recreated from the ground up so that Greg could offer it as part of a collection of stock plans that builders and homeowners can order online.
Ann Kendall's home is the first (and as of this writing, the only) Plat House in Maine. And it was the first Plat House anywhere to use cedar shakes for siding, which, according to the architect, is a good cladding for this design. We recently chatted about the project with Ann and her builders, C.F. Witham & Son of York, ME.
What was the genesis of this beautiful home?
Ann: I was living in a larger house in York, and it outgrew me. My husband had died, my kids were grown, and the house required a lot of upkeep. I wanted to downsize. I found a piece of property in Kittery with a great view over a wide expanse of Barters Creek, plus it had water frontage. There was a lot of wildlife around and, of course, swimming and kayaking. It was an ideal location.
What made you choose the Plat House design?
Ann: My goal with this project was to remove the old cottage that was on the property and build a modern, green home that would require as little maintenance as possible. I called it my "forever house." I liked the simplicity and openness of Greg's Plat House, so I ordered the plan and took it to Darin Witham and Dave Grant at C.F. Witham & Son. Dave has worked with me on numerous projects at all my houses. It's gotten to the point where I don't even have to finish a sentence, he just knows.
Dave: Ann was all set to build the stock, 2-bedroom plan just as she received it, but having worked with Ann, I wanted her to know she could do a little customizing if she wanted to. So I told her this was a great, open design that would easily accommodate changes.
Ann: I loved the freedom that gave me! My mind started working immediately. I did a lot of measuring and adjusted the layout to accommodate my lifestyle and personal vision. Because the property is sloped, we decided to add a lower level of living space for guests, underneath the main floor. I then took the space that would have been the second bedroom upstairs, relocated and expanded the kitchen and installed some Marvin sliders that lead to an outdoor dining area.
What was the building experience like for you?
Ann: I had so much fun. Darin and Dave did a great job! It took just 7 months after they broke ground to complete it. And I was able to specify a lot of the finish details.
For example, the architect has these wonderful windows in his plan that are oriented to catch any breeze passing by and direct it into the house. But my house is up on a hill, with Portsmouth harbor very close by, so I have great breezes all the time. This allowed me to change the windows to something simpler.
Darin: Ann decided she wanted black windows, so we looked into it. To get black added to windows at most manufacturers was an upcharge, but with Marvin black is included as an option in the base price. Plus they're very efficient! And these Marvin windows have such clean lines – it's a really great look for this house.
Ann: I also have these very clever awning windows from Marvin. They're only about 12 inches high but 3 to 4 feet wide. In the kitchen, which is on the north side of the house, I have them at counter height, and then I have some in the living space up high, in the clear story. If it ever starts to get warm in the house, I just open the awning windows. The cooler air enters low from the north side and forces the warmer air to exit above.
You call this your "forever house." What do you mean by that?
Ann: I wanted things that didn't need to be painted or treated. For the deck railing
I chose CableRail with aluminum top rails and posts. It fits perfectly into my concept of a minimalist design. And the cedar shakes will be allowed to weather, so there's no paint to maintain. I think we got all those things at Selectwood – doors, windows, siding, CableRail… Darin and Dave were the ones who knew to go there. I wouldn't have known where to go.
Dave: Steve King at Selectwood was very helpful throughout the process.
Ann: I also ended up getting a hot tub from Selectwood's sister company, Great Bay Spa & Sauna. I use it about 5 times a week. It's very easy to maintain – I have my little pH dip strips and just keep an eye on it. I love it!
What are your favorite things about this house?
Ann: The light. Having all these beautiful windows and door lets in so much light. And I love the quiet. The house has solar power, and radiant heat, and on-demand hot water, so there's not a lot of noise from mechanical systems turning on and off. You don't hear functions, just nature, which is very nice.
Photography – Greg West & Peter Charpentier
Often we're writing about projects that include a client, architect and contractor. In this Project Spotlight the architect is also the client. What a fascinating opportunity to see how an architect designs in 2015 to suit his priorities when he isn't attending to the desires of a client.
Tom Beard is a seasoned architect who is the proprietor of TS Beard Architecture of Ipswich, MA. Tom primarily designs residential architecture with much of his work concentrated on Cape Cod and the Islands. We had a chance to photograph Tom's new property and learn more how his new completely renovated home became a reality.
Read the Full Article
Tom, would you tell about how your beautiful new home came to be?
Our new home is actually a renovation of a ranch house that had been built in 1969. It was in very poor shape when we purchased the property having been unoccupied for ten years. We were looking for, and found this property, a house on a nice site with no historic fabric that we would feel compelled to respect (my wife is a historic preservation consultant). My wife and I were relocating from a house that had a walk-up attic, a large basement and a garage. This house had none of these when we purchased it. We enjoy outdoor sports (mountain biking, paddling, skiing, etc.), as well as yard work, woodworking, arts and crafts. I designed a garage to help contain these activities as well as keeping the cars protected and more importantly, out of sight.
The lot is large but narrow. The existing house was well positioned to take advantage of the view of the Indian Hill Reservoir but the approach to the house from the street was awkward. I used the position of the garage and the existing (as yet un-renovated studio) to create a courtyard to focus the entry sequence. The design of the garage is indeed jogged to respect the zoning setbacks. With the exception of a small addition which houses the master bathroom we retained the perimeter of the existing structure. But while the foundation and roofline were re-used most everything else was redesigned.
Being an architect and knowing what you wanted, it must have been almost fun to take on the design challenge?
We had several goals: Contemporary living after renovating and living in several historic homes, we desired spaces for entertaining and outdoor living. I wanted to design for one floor living in anticipation of aging. Downsizing after our daughters had gone away to college and beyond, but providing space for them to return. The lower level opens to grade and a fantastic water view. This level contains two bedrooms, a large common area and a bathroom.
Energy efficiency was another primary goal and each element of the structure, from the slab to the roof was treated to maximize insulation and air sealing in the most cost effective manner. The un-insulated slab was covered with rigid insulation with the finished floor "floating" above. The foundation walls are insulated with closed cell spray foam which provides both insulation and waterproofing.
The 2×4 exterior walls are covered with closed cell spray foam on the exterior (the siding is attached 2×3 cleats isolated from the sheathing on 2″ XPS spacers to prevent thermal bridging) and insulated on the interior with high density fiberglass batts. The roof has 4″ of rigid insulation above the sheathing and the rafter bays are filled with high density fiberglass.
The house is enveloped in an exterior blanket of closed cell spray foam which serves as both insulation and air sealing. This technique required some creativity when it came to the detailing of the siding, windows, decks, etc. Fortunately, Sean Scanlon, my contractor and friend, enthusiastically helped to work through these details.
The broad overhangs were a feature of the existing house that we definitely wanted to retain both because of the aesthetic (the broad sheltering roof) and because they serve to protect the siding and windows from sun and rain. The Western Red Cedar siding was very important both because it is consistent with the design aesthetic and because it helps to integrate the house with the landscape. The warmth of the natural wood helps to soften the modern lines which might otherwise feel too cold.
We chose to use copper gutters and downspouts, despite the cost, because of their durability and appearance. We regret now, not having installed a rainwater collection system. Our goal at the time was to get the water away from the house so that the lower level finished spaces were not at risk, but given the recent dry spell a collection system would have been very beneficial.
Because we wanted to take advantage of the view the design included many windows. In order to meet my energy efficiency goals I decided to use triple pane units. I chose Marvin custom clad units for their beauty, durability, design flexibility and performance.
Has the house functioned and performed to meet your standards for energy efficiency?
While we have spent only one winter in the house so far, it was a pretty extreme test! We used about 250 gallons of propane for heating, domestic hot water and cooking combined. It is very easy to heat the house and the air sealing measures (mostly the spray foam) make it very tight (1.1 air changes per hour); there are no drafty spots. The heating system is propane fired high efficiency boiler (Viessmann) supplying panel radiators. The domestic hot water is an on-demand system also supplied by the boiler. The cooling is supplied by a centrally located Mitsubishi mini-split.
After learning from Tom Beard the architect and owner we spoke with Sean Scanlon the General Contractor about his company and experience with this Tom's project.
Sean, can you tell us about your company and how you got involved with the Beard Project?
Our company, Scanlon Contracting has been in business for over twenty years. We consider ourselves a small residential company. We have our own in house carpenters, job supervisors and project managers. We focus on high end architecturally designed homes and remodeling work. We seem to work almost exclusively on the North Shore of Massachusetts. I have known Tom Beard for quite some time and I was delighted when he asked if we could work on creating a new home out of a well-used ranch.
Besides working with Tom, what was attracting and challenging about this project?
Tom was looking for an uncomplicated look with clean modern lines. Additionally, he was looking to convert the house to be super energy efficient. There are no standard strategies to build a super insulated house. The existing house was in pretty tough condition so after gutting it, we had a blank slate to work with. Additionally Tom had plans to add a small addition to the house, a large deck and a separate garage/barn structure.
I welcomed the challenge. Our project incorporates the science of negating thermal bridging. We incorporated insulation techniques outside the building envelope. A rain screen was achieved using the strips applied over rigid insulation. When the house was finished it achieved extremely positive results from blower door testing.
We understand you worked with Bert Raymond from Selectwood in specifying and supplying materials for Tom's makeover?
Bert was a great resource in specifying and suppling materials. The house makes extensive use of Clear Vertical Grain Edge Matched Tongue and Groove Western Red Cedar on the exterior siding and trim. We made use of Clear Vertical Grain Douglas Fir for the interior including most of the ceilings. Selectwood specializes in both these materials and was able to source the level of consistent quality we required. It certainly makes the house a showpiece. Bert also supplied the Douglas Fir interior doors, railings and trim all made from Clear Douglas Fir. In addition to the exterior siding Bert supplied the Meranti decking and a Cable Rail system integrated with Meranti posts.
I may be bias but the pictures bear out the quality of the house. It proves a super insulated house can function as designed and still be spectacular in appearance. Thank you, Sean and Tom for all your input. The finished house leads us towards the future of energy efficiency and the size of modern home building.
Scanlon Contracting
Photography by Jon King
The homeowner of this beautiful seaside cottage had a dilemma: What do you do when you own a beautiful vacation home on a property you really love, but it's becoming too small for your expanding family? It was hard to give up on a family home that overlooks the ocean on the New Hampshire seacoast.
Read the Full Article
If they were to remodel and expand the footprint, they'd prefer to create a more relaxed, spacious living space. They particularly wanted an open kitchen – a great room to hold extended family gatherings throughout the year. The style of the existing home was elegant but reserved. Could they create more space with an addition that could creatively blend with their existing home? Could an addition create more visual appeal and still accomplish their goals of open interior space?
To look at possible solutions they enlisted the services of the creative team from TMS Architects of Portsmouth, NH. TMS Architects is well known throughout New England for their seaside architectural styles. Robert Carty of TMS led the design team from concepts to the finished project. We had a chance to speak with Rob Carty and ask him about the challenge of blending the addition with the existing home. Rob had pictures of the home prior to construction. He commented, "You will see the existing house had awkward roof lines and details." We also asked if there were lot setbacks or any other restrictions that limited TMS's ability to design the addition. He told us, "Yes, the existing house and deck were over the current allowable side setback regulations. We reconfigured the addition in such a way that we were granted ZBA approval. We also could not increase the height of the addition due to respect of the neighbors' views."
After adjusting and finalizing the design to fit the sight and zoning requirements, it was time to select a contractor. C.M. Ragusa of Seabrook, NH, was chosen. Chris Ragusa is the company's owner and takes an active role in all phases of his company's operations. Chris describes his company as specializing in custom residential construction and renovation projects throughout NH, MA and ME. In addition to construction, C.M. Ragusa has a millwork division that produced all of the interior cabinetry and mouldings for this project.
As with all highly detailed projects, Chris was there to make sure the addition progressed correctly. Retta Fitch of TMS Architects acted as project manager. The original plan was to integrate the new addition leaving the original dwelling intact. As it often happens, the excitement inspired by the new addition started to creep into the existing home. When the sawdust settled, almost all areas of the original home had been renovated. The entire exterior received new trim work, windows, siding, roofing, rear entry and pergola for a complete exterior makeover.
We spoke with Chris about Selectwood's involvement in the project. Tom McElreavy is Selectwood's Outside Salesperson who is responsible for the C.M. Ragusa account. Tom is a consummate professional who constantly educates himself and, in turn, his customers on Selectwood's evolving product lines. Marvin windows were specified for the addition and, as always, Tom was there to consult on the specifications. There are so many options with Marvin Windows and Doors it requires an expert to take advantage of all the possible ways the windows could be configured and finished. The customer originally wanted a custom color for the exterior window finish. In the end they settled on one of the many standard color options that Marvin offers.
In addition to the aluminum clad Marvin windows, we inquired about what type of building materials or techniques Chris used to deal with the excess wind, humidity and moisture of a seaside environment. AZEK trim from Selectwood was chosen since it was proven to be superior to any species of painted wood in almost any exterior environment. Special attention was paid to the flashing materials and techniques, including pan-flashing under the windows. Chris also used a rain screen behind the sidewall shingles. Spray foam insulation was used for temperature and humidity control.
With the home project complete, we asked architect/designer Rob Carty what features or details he liked the most. Rob responded, "It would have to be the stone turret entry with an art studio built above it." It certainly creates a custom look that is difficult to achieve without professional designers. We also asked Chris what he felt was the most satisfactory aspect of the project. He proudly told us, "I truly enjoyed working on this project because of the hard work and expertise the architect and homeowner brought to the project. It was a great team experience I was proud to be part of."
Photography – Rob Karosis
LOCATION
Eldredge-Selectwood
275 Constitution Avenue
Portsmouth, NH 03801
Call: 800.922.5655
Local Phone: 603.436.9663
Fax: 603.436.1331
Store Hours:
Mon. – Fri.: 7:30 am – 5:00 pm
Saturday: 8:00 am – 1:00 pm